Wann:
23. Mai 2023 um 19:30 – 20:30
2023-05-23T19:30:00+02:00
2023-05-23T20:30:00+02:00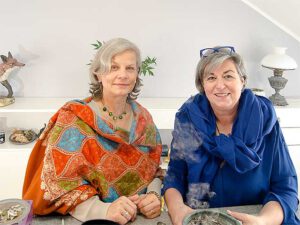 fuchs&volm zu plants&soul
online ZOOM am Dienstag 23. Mai 2023 19:30
Dauer: ca. 1 Stunde
Dieses Mal stellen wir dir plant&soul vor, meine Arbeit in Sachen "Hilfe für die Seele aus dem Pflanzenreich".
Christine Fuchs hat sich zu einem plant&soul date mit mir verabredet und du kannst dabei sein und dir anschauen, wie ich arbeite.
Bist du dabei? Dann einfach hier über Christines Seite anmelden!Buchung über website Labdanum
Christine Fuchs auf der Suche nach Inspiration aus dem Pflanzenreich
Dr. Christine Volm hat ein neues Angebot. Das hat aber etwas gedauert, bis sie es gewagt hat, darauf aufmerksam zu machen. Der erste Schritt ist hiermit getan. Christine Volm ist Wissenschaftlerin und allem gegenüber skeptisch, was nicht so einfach greifbar ist. Deswegen hat sie sich erst einmal überwinden müssen, um selbst ihrer Wahrnehmung zu trauen. Jetzt jedoch ist sie sich sicher: plant&soul, ihr neues Beratungstool für Menschen von und mit Pflanzen ist hoch wirkungsvoll. Neugierig und spontan wie die Christine Fuchs ist, hat sie sich voll Freude bereits erklärt, in einem Infozoom diese Methode an sich selbst anwenden zu lassen. Das wiederum gibt nun dir/euch die Möglichkeit, das neue Beratungstool von Dr. Christine Volm kennenzulernen, live mitzuerleben und zu erkennen, wie man davon profitieren kann.
plant&soul – listen to plants and get inspired
Worum geht´s? Dr. Christine Volm bietet plant&soul dates an – ein Termin, an dem du dich von der Pflanzenwelt inspirieren lassen kannst. Sie ist bei diesen Treffen zwischen Mensch und Pflanzen die Mittlerin. Man könnte auch sagen, die Übersetzerin – sie versucht nämlich, deine Bedürfnisse wahrzunehmen und mit dir zusammen eine Pflanze zu entdecken, die dir Inspiration sein kann und Lösungswege aufzeigen kann.
Hört sich einfach an, ist aber doch ein komplexer Vorgang. Daher wollen wir dir veranschaulichen, die so was gehen kann – so ein plant&soul-date.
Christine Fuchs stellt sich also gerne zur Verfügung – wir sprechen über ein aktuelles Anliegen von ihr und allgemein über ihr Wesen. Willst du wissen, welche Pflanze ihr bei ihrem Thema weiterhelfen kann?
Christine Volm wird an diesem Abend die Verbindung herstellen und für Christine Inspirationen aus der Pflanzenwelt zu übersetzen. Und du kannst mit dabei sein – online. Christine Fuchs ist schon ganz gespannt – denn es wird persönlich und sie lässt sich mit Hilfe von Fragen, die ihr Christine Volm stellen wird, in die Tiefe ihrer Seele führen.
Vielleicht möchtest du auch einen Schritt weitergehen und direkt von Pflanzen lernen. Mehr Infos dazu findest du HIER
Eine Anmerkung noch dazu: Wir hatten erst überlegt, diesen Abend kostenfrei anzubieten, haben aber in letzter Zeit so oft die Erfahrung gemacht, dass wir dann sehr viele Anmeldungen haben, aber nur ein Bruchteil der angemeldeten Teilnehmer:innen dann auch wirklich dabei ist. Deshalb haben wir uns dazu entschlossen, eine kleine Gebühr von 5 € zu erheben, die dann an einen Verein gespendet werden, den Christine schon lange unterstützt: Fürs Käpsele. Wir freuen uns also doppelt und für andere mit, wenn ihr dabei seid.
Wichtige Infos:
Du erhältst den Zugangslink nach deiner Buchung in einem Mail mit dem Betreff "Information zur Buchung". Bitte Zoom-Termin in Kalender eintragen und Zugangslink wieder auffindbar abspeichern!
Alle weiteren Fragen sind in der Rubrik FAQ beantwortet.